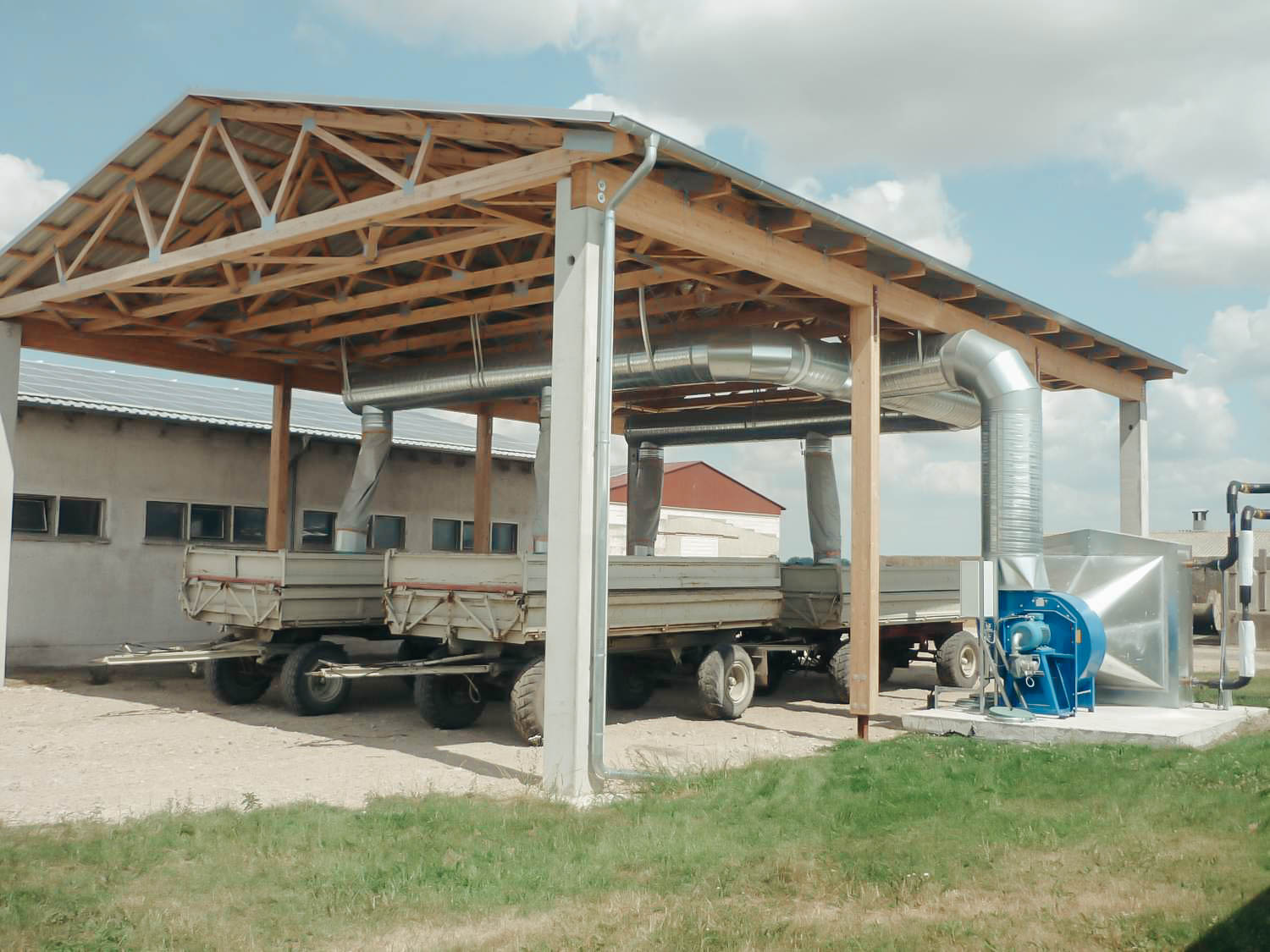 Drying technology
During the drying process, moisture mostly in the form of water is removed from the material to be dried.
Two things can be achieved with this procedure. First of all, thereby microorganisms such as fungi and bacteria can be deprived of their livelihood base and second the heat value can be increased. These two advantages are on the one hand used during storage of grain and oilseeds and on the other hand, during storage of heating material such as wood chips, firewood, or similar material. We can offer you different components for drying.
Compact unit for waste heat utilisation
The Air-Heater is perfectly tailored to the utilisation of waste heat attained from biogas and combined heat power plants.
The completely individual combination of fan and heating coil enables us to meet all the demands of our customers. This has been especially compiled to allow a quick and easy air-heating for container-drying and storage ventilation drying. 
The whole unit consists of a fan, heating coil, subconstruction and casing with insulated panels. An inlet guard, air-filter or ventilation control is also available if required.
The control system is adjusted and fitted according to your plant.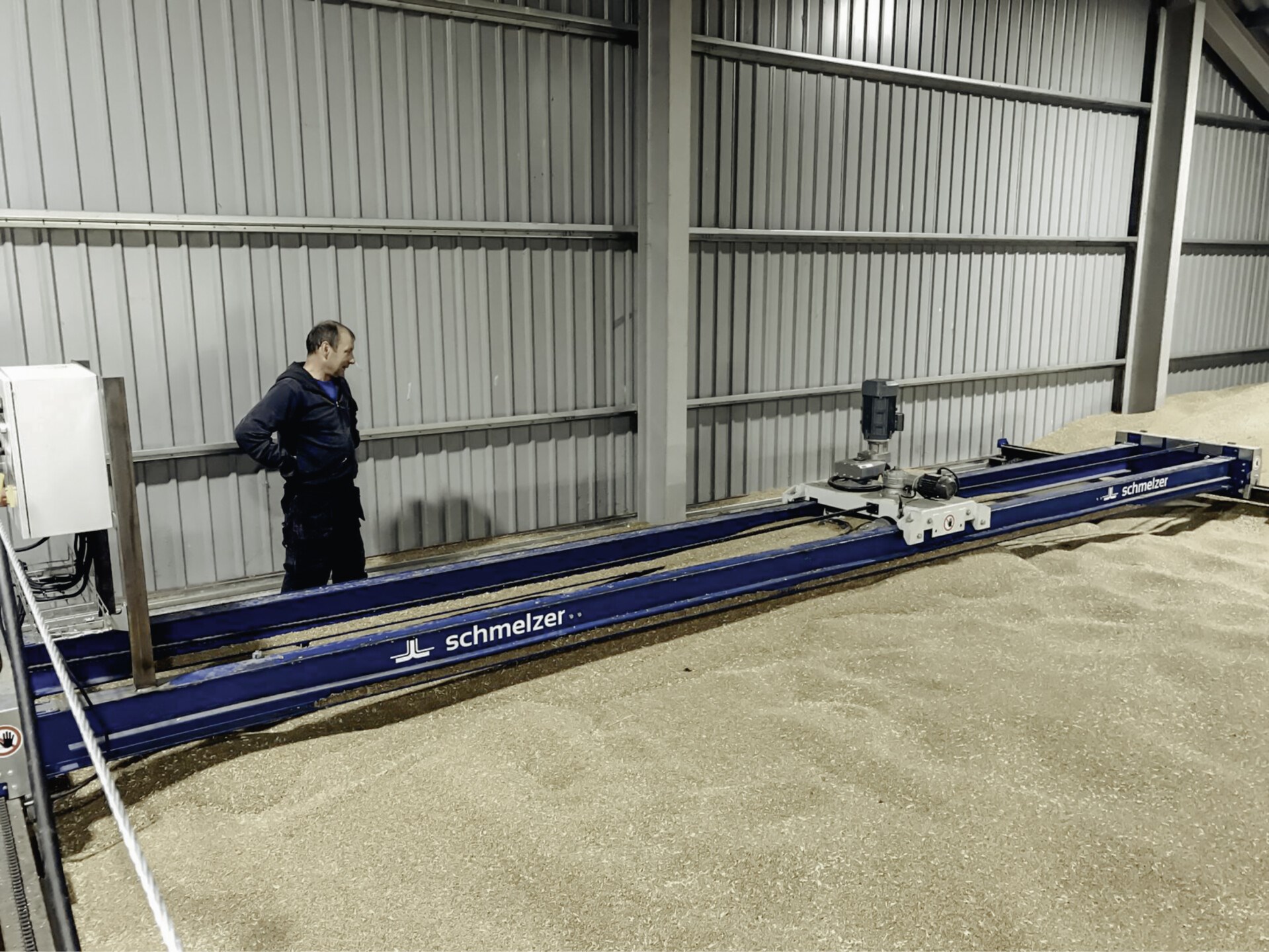 Mixing conveyor
Our new Spiral Mixer – Grain Mix not only improves the homogeneity of a bulk material but also the drying process by circulating the grains in the storage. As a result, pressure losses can be reduced and uniform ventilation of the layers in the bed can be achieved.
With a maximum traverse length of 12 m, it is also possible to use it to homogenize even large storage cells. A simple control with an adjustable limit switch also guarantees variable use. The Spiral Mixer is also suitable for all grains and is recommended in conjunction with an aeration floor.
Combination option of Spiral Mixer with full-surface aeration floor
Homogenization of large storage cells
Reduction of pressure losses
More efficient ventilation and drying
Suitable for all grains
Variable application through simple control with adjustable limit switch
heat-box
The heat box is a complete heat exchanger unit for an outdoor installation. The different sizes are optimally adapted to the drying with waste heat.
At a flow temperature of 80° C and a return flow temperature of 65°C, the air temperatures shown in the table in°C obtain at an ambient temperature of 20°C at the output side of the Air-Heater.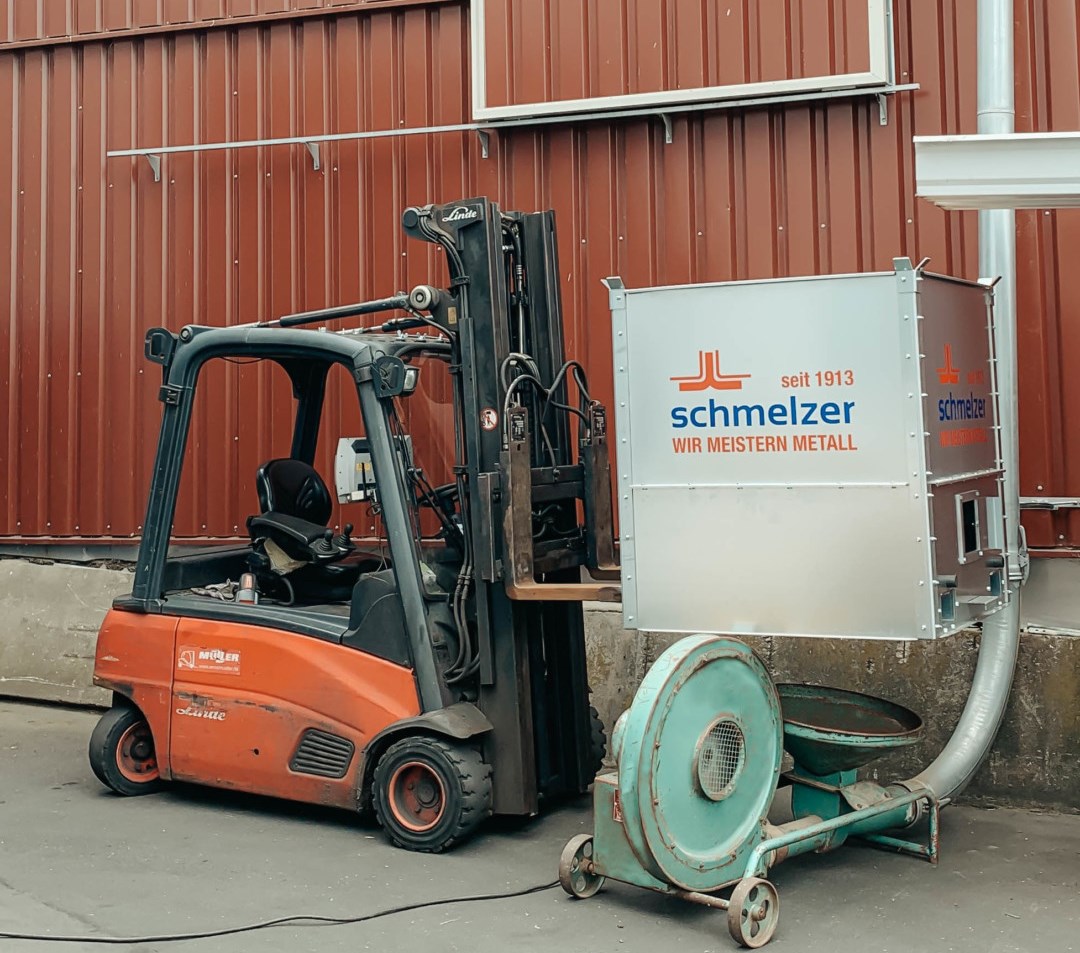 Air – Box aeration and drying tanks
Air – Box aeration and drying tanks. Box for ventilation and drying of grain and seed.
Advantages:
ventilation and drying with low pressure loss

storage of grain and seed

ideal for small and minimum quantities

2 boxes stackable on top of each other at simultaneous ventilation

perforation inside the hopper 1,5 mm

also suitable for rape

transportation with a forklift

made of galavanized sheet steel

suitable ventilation connection available

integrated ventilation hopper
hay bale drying systeM
With the new hay bale drying system, the production of hay in the form of round bales of high quality is guaranteed. The technical ventilation ensures shorter drying times, which improves the forage quality.
The hay bale drying system can still be expanded in a modular way, which is why it can be optimally used by both small farmers and large farms. The compact design also ensures high stability and easy operation and assembly.
Obtaining high quality hay
Greater cleanliness and hygiene
High flexibility through modular design
Corrosion and weather resistance
High stability through the use of galvanized steel sheet
Compact construction
Easy to use and equip
High efficiency and thus lower energy consumption of the fan
I AM AVAILABLE FOR YOU!
Export GUS