Cyclones
There are certain simple pre-separators for different industrial applications possible with our range of cyclones SZ-LB. From circular saws to industrial filters can be equipped with this cyclones.
With our cyclones for the range SZ you have the suitable pre-separator for each type of dedusting in almost all sizes. The cyclones are generally equipped with a tangential inlet, which ensures an excellent separation performance. The cyclones can also be realized in a spiral form inlet.
The separators are available in a left and right version. Accessories such as rain covers are manufactured to fit for each cylone.
The cyclones in the light version are characterized by the simple construction with an excellent separation performance.
The cyclones have a circular inlet pipe and can be connected without great effort at an existing pipeline. The light construction made of 1mm galvanized steel makes it possible to integrate the separator with a clamping ring in pipe systems.
The dust discharge can be provided with FIBC (Big Bag) which would be installed at the discharge pipe. When using a BigBag, the cyclone must be operated on the pressure side. The cyclones in the light version are available from 700 – 4000 m³/h.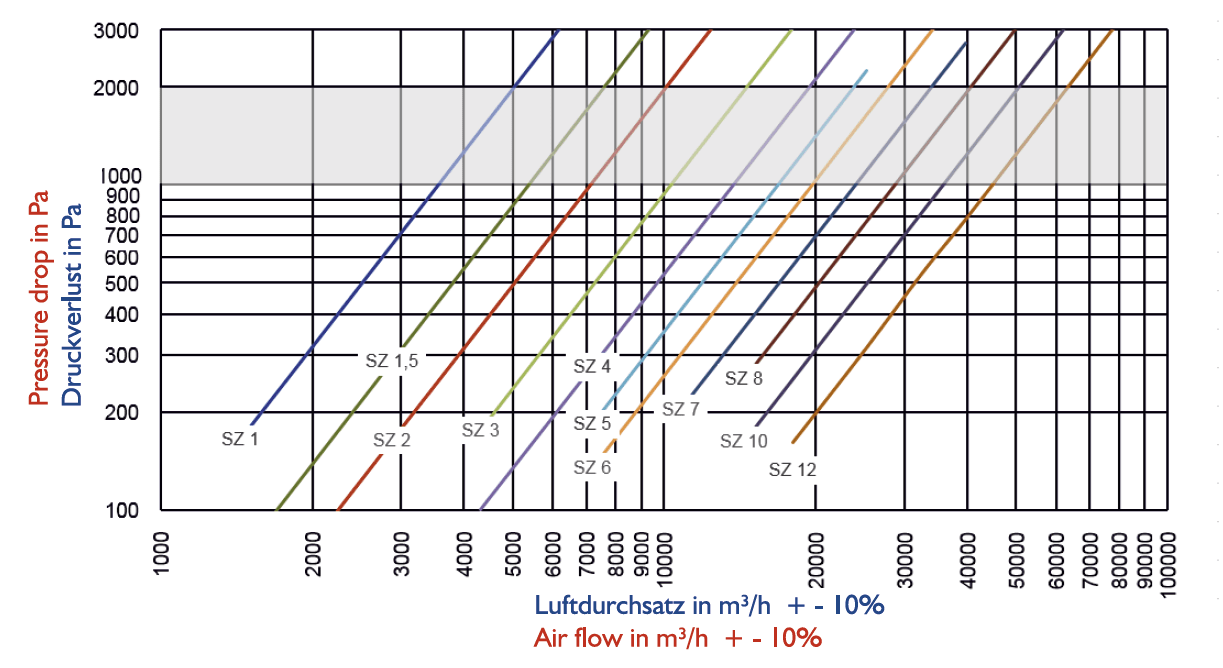 The SZ cyclones of Schmelzer can be used for nearly all industry dust cases.
There are different cyclone geometries available for volume flow range from 3000 to 60000 m³/h. The series of the cyclone SZ is based on a slot-shaped inlet, optionally it can be realized in a spiral form inlet. The cyclones consist of painted steel sheets. Also Available is the execution in stainless steel, also available in 2K coatings. For preventing such whirls from separated dust, it is possible to install a dust collector with the connection dimensions of a rotary valve. On the cover plate and near the bottom opening, an inspection door is included.Circular flanges are manufactured according to DIN 24154 RII and square flanges to DIN 24193 R 2. The grey area represents a well sizing range in the Q-P-diagram.
I'M HERE FOR YOU!
Export France/Spain
ORDER OUR CATALOGUE
Please ask for our new catalogues and information brochures in the areas of Agricultural Equipment, Modular Pipework Systems, Plant Engineering, Moulding Technology and Tinsmithing. You can also use the function of our flip catalogue or PDF download to receive first insights in our catalogues.