Silo funnels
Price on request or after logging in
For our square cell, a 60° funnel is available as a standard. Now you can store mealy and heavy leaking bulk material as well as feed.
The smooth inner wall with a sheet thickness of 2mm is galvanized and easy to clean.
The funnel is perfectly prepared for your storage with its increased capacity and a maximum size of 4 x 4m.
On request, we can deliver your silo funnel in any desired colour. The discharge height is variable against extra charge.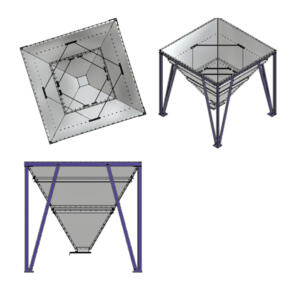 | Type | m³ | to (0,75to/m³) | Base | Tilting | Installation height |
| --- | --- | --- | --- | --- | --- |
| Typ A _1,10m³ | 1,10 | 0,80 | 2,10m x 2,10m x 1,50m | 40° | 7,5m |
| Typ B_1,10m³ | 1,10 | 0,80 | 2,10m x 2,10m x 1,50m | 40° | 7,5m |
| Typ C_1,10m³ | 1,10 | 0,80 | 2,10m x 2,10m x 1,50m | 40° | 7,5m |
| Typ A_2,00m³ | 2,00 | 1,50 | 2,10m x 2,10m x 2,20m | 60° | 5m |
| Typ B_2,00m³ | 2,00 | 1,50 | 2,10m x 2,10m x 2,20m | 60° | 5m |
| Typ C_2,00m³ | 2,00 | 1,50 | 2,10m x 2,10m x 2,20m | 60° | 5m |
| Trichter Typ A 2,40 m³ | 2,40 | 1,80 | 2,10m x 3,10m x 1,90m | 40° | 7,5m |
| Typ B1_2,40m³ | 2,40 | 1,80 | 2,10m x 3,10m x 1,90m | 40° | 7,5m |
| Typ B2_2,40m³ | 2,40 | 1,80 | 3,10m x 2,10m x 1,90m | 40° | 7,5m |
| Typ C_2,40m³ | 2,40 | 1,80 | 2,10m x 3,10m x 1,90m | 40° | 7,5m |
| Trichter Typ A 3,60 m³ | 3,60 | 2,70 | 3,10m x 3,10m x 1,90m | 40° | 7,5m |
| Typ B_3,60m³ | 3,60 | 2,70 | 3,10m x 3,10m x 1,90m | 40° | 7,5m |
| Typ C_3,60m³ | 3,60 | 2,70 | 3,10m x 3,10m x 1,90m | 40° | 7,5m |
| Typ A_6,00m³ | 6,00 | 4,50 | 3,10m x 3,10m x 2,90m | 60° | 5m |
| Typ B_6,00m³ | 6,00 | 4,50 | 3,10m x 3,10m x 2,90m | 60° | 5m |
| Typ C_6,00m³ | 6,00 | 4,50 | 3,10m x 3,10m x 2,90m | 60° | 5m |
| Typ A_6,40m³ | 6,40 | 4,80 | 4,10m x 3,10m x 2,5m | 40° | 5m |
| Typ B1_6,40m³ | 6,40 | 4,80 | 3,10m x 4,10m x 2,5m | 40° | 5m |
| Typ B2_6,40m³ | 6,40 | 4,80 | 4,10m x 3,10m x 2,5m | 40° | 5m |
| Typ C_6,40m³ | 6,40 | 4,80 | 3,10m x 4,10m x 2,5m | 40° | 5m |
| Typ A_8,50m³ | 8,50 | 6,40 | 4,10m x 4,10m x 2,5m | 40° | 5m |
| Typ B_8,50m³ | 8,50 | 6,40 | 4,10m x 4,10m x 2,5m | 40° | 5m |
| Typ C_8,50m³ | 8,50 | 6,40 | 4,10m x 4,10m x 2,5m | 40° | 5m |